Personas Rotator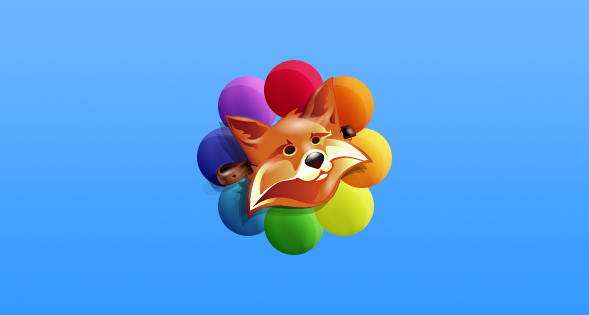 Congratulations! Personas Rotator installed successfully. Now you are ready to use your new add-on. What Will Your Browser Wear Now?
Personas Rotator is a companion for Personas Plus add-on. So Personas Rotator works in combination with Personas Plus to expand its functionalities and properties. As its name suggests Personas Rotator rotates your Personas at specific intervals automatically.
When installed Personas Rotator places a special menu option in Personas Plus menu. This way Personas Rotator is more elegantly integrated into the Personas Plus. You may reach the Personas Plus menu through status bar icon or Tools menu.
Personas Plus icon sits at the left bottom section of your Firefox in statusbar. If you do not have this icon you may need to activate the statusbar by following Firefox Menu Bar > View pathway and having a tick on Status Bar option.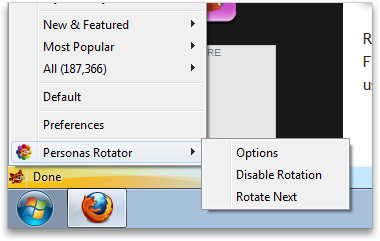 If you left click on the Personas Plus icon you will notice the Personas Rotator menu option inside the popup menu. Hovering over Personas Rotator menu will reveal the add-on options.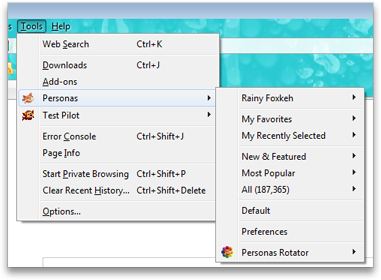 Also you may reach Personas Rotator menu by following Firefox Menu Bar > Tools > Personas pathway as above image depicts.
Personas Rotator will automatically rotate the Personas skins you have. If you logged in GetPersonas.com and have favorites in the system, the add-on will try to rotate your My Favorites personas. If you did not log in the system and have no My Favorites personas the rotation is completely random through different collections. The rotation interval time is set to 1 minute as default and you can change this value through settings.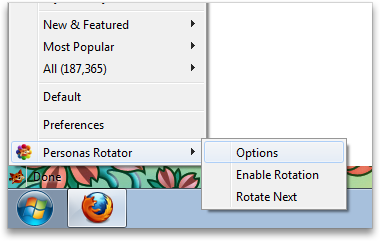 To change the Personas Rotator settings just left-click the normal Personas icon on Firefox status-bar. This will open up the Personas context menu which will provide you the Personas Rotator menu option.
By choosing Options menu, you may adjust the add-on cycle through All categories, My Favorites or set to rotate inside a specific category (e.g. Foxkeh) Also rotation interval can be changed as your like.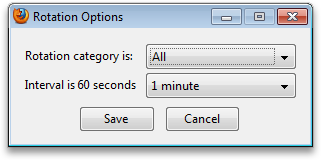 Note: If you:
• activate another Personas from Personas menu
• choose Default menu option from Personas menu or
• install new Personas from getpersonas.com
the rotation automatically stops. Because those requests should stop the rotation to see the changes took place. To activate the rotation again, follow Personas menu > Personas Rotator pathway and choose Enable Rotation menu option.
If any time rotation is not active make sure that:
• you have logged in the GetPersonas.com (only required if My Favorites is choosen for rotation category)
• check the ration is enabled from follow Personas menu > Personas Rotator pathway and choose Enable Rotation menu option if it is available. (Do not choose Disable Rotation. It implies the rotation is active and you do not need to take any further proceeding.)
You may combine Personas Rotator with Browser Backgrounds which lets you install wallpapers to your Firefox to better customise your browser. Browser Backgrounds is a great companion for Personas.
https://addons.mozilla.org/en-US/firefox/addon/10550
What about another rotator add-on? Wallpaper Rotator is the new Firefox add-on that changes your computer Desktop wallpapers regularly. No need to install another software to change your Desktop Wallpapers any more.
https://addons.mozilla.org/en-US/firefox/addon/14651
If you find the application useful please support my development efforts.
Hope you enjoy.
---